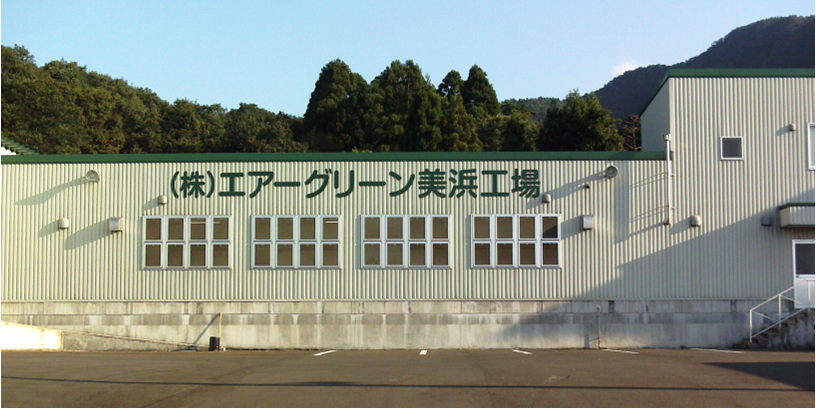 About Us
The History of Our Company
| | |
| --- | --- |
| 1979: | Start foreign trade business as one section of Kameibashi Chuo Pharmacy to export drugstore's products. |
| 1986: | Establish Air Green Co., Ltd. and begin export business. |
| 1993: | Build own laboratory, aquire an import license of pharmaceutical products, and start the import business. |
| 1994: | Aquire an import license of cosmetics and begin to import cosmetics. |
| 1996: | Become the sole distributor of Aloecorp in Japan and start to import aloe vera raw materials from U.S.A. |
| 1999: | Start to import tea tree oil from Australia. |
| 2000: | Form a joint venture company, AJ Natural Tech Co. Pty. Ltd. in Australia with Australian Natural Oil Co. Pty. Ltd. to get a stable source of tea tree oil. |
| 2001: | We have been interested in "Noni" fruit, and started to study about Noni, and established the relationship with Solomon Isrands and imported Noni juice. |
| 2002: | From reseraching promising plants, we have known fenugreek seed has the function to reduce blood sugar and is excellent natural viscous agent. Then we started the study to get pure albumen from fenugreek seed, and established the manufacturing method, then we builded up the factry to manufacture fenugreek gum which do not have smell and bitter taste and is easy soluble. |
| 2005: | Japanese pharmaceutical regulation changed from April 1, 2005 for internationa harmonization, out compasny became pharmaceutical and cosmetic manufacturer. |
| 2008: | Built up new factory in Mihama-Cho Fukui prefecture. |
When our company was established, our main business was exporting, and we were exporting pharmaceutical products to neighbor countries like, Korea and Hong Kong, etc. And we also continue to export pharmaceuticals now.
As a result, the share of eye drops sold through pharmacies and drugstores in Hong Kong is No.1. And the sales channels are expanding to China and South-West Asia. But one side business of only exporting is not stable for changable currency, so we decided to develop an import business and receive import licensing for pharmaceuticals.
In contemporary USA and European countries, the main concern for natural products was the accidental contamination product with synthesized chemicals and side effect by synthesized pharmaceuticals, and health supplements and natural cosmetics were sold widely. Our company met 99% aloe vera cosmetic at that time. And started to import and sell 99% aloe vera cosmetic, and we were also interested in aloe vera as raw material, then started to study about high quality aloe vera raw materials. And established the standard of aloe vera raw material, and started to sell aloe vera raw material.
Our company has found the difficulty of research of natural products and was also interested in natural products while studying aloe vera, and we decided to make our main business to develop effective and harmless new natural raw materials. We started to sell tea tree oil as a secondary product. Our laboratory staffs make thier best to develop new natural raw materials.